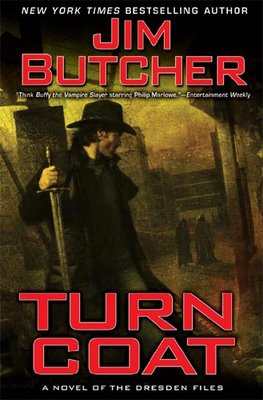 The Warden Morgan has been accused of treason against the Wizards of the White Council--and there's only one, final punishment for that crime. He's on the run, wants his name cleared, and needs someone with a knack for backing the underdog. Someone like Harry Dresden.
Now, Harry must uncover a traitor within the Council, keep a less-than-agreeable Morgan under wraps, and avoid coming under scrutiny himself. And a single mistake may cost someone his head--someone like Harry.


Jim Butcher has earned a place in my heart as an incredible urban fantasy writer. Though the Dresden novels are set in the present, it's a kind of present that while being completely fantastic, is at the same time completely logical and believable. Harry Dresden is the type of complicated, yet uncomplicated, hero that every reader loves to root for. Always there for the underdog, determined to preserve goodness in all it's aspects, he persists in doing what he can to make life better. Yet his own emotional turmoil while does so lets the reader empathize with him along his journey. This latest installment again continues with the type of bittersweet heroism that run through all the books. Romance and deception, danger and intrigue, all these and more make an appearance. An incredible addition and highly recommended - along with the entire series of course.
Overall Feeling

- Thumbs up. Another great book in a series that is helping to define urban fantasy today.
Series

- 1) Storm Front 2) Fool Moon 3) Grave Peril 4) Summer Knight 5) Death Masks 6) Blood Rites 7) Dead Beat 8) Proven Guilty 9) White Knight 10) Small Favor 11) Turn Coat