This was an interesting month bookwise, just because I hit a couple of snags that through off my reading rhythm. Twice during February I either started to get bored with the book I was reading, or started to dread an upcoming book I wanted to finish. Neither of those are good places to be, so unsurprisingly I didn't read quite as many books as I did in February. I must also admit that these last couple weeks I wasn't as consistent in tracking my reading, so while I don't think I left anything out, there's no way to be exactly sure.


Still, even with these problems, there were a few standouts that I want to make sure that people take some time to read:
Nauti Deception
by Leigh,
Pleasure of a Dark Prince
by Cole, and
Coming Undone
by Dane. All of them featured great main characters and the kind of plot, romance, and sex combination that make a book truly memorable for me. Life As We Knew It by Pfeffer is a very well written novel, but also a emotionally taxing read - take that opinion like you take anything else I say, but only read it if you're prepared to shed a few tears.


Oh! I almost forgot - I also loved
Back in Black
by Foster. It's a fun light-hearted story, which I was glad to pick back up and reread after I finished Pfeffer's book.

Obsidian Prey
by Jayne Castle
Flirt
by Laurell K Hamilton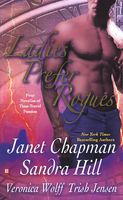 Back in Black
by Lori Foster
Tea for Two
by Shelley Munro

Ladies Prefer Rogues
by Chapman and More
Nauti Deceptions
by Lora Leigh
The Mane Squeeze
by Shelley Laurenston

The Mane Attraction
by Shelley Laurenston

The Beast in Him
by Shelley Laurenston
The Elusive Bride
by Stephanie Laurens
Life As We Knew It
by Susan Beth Pfeffer
Enchanted, Inc.
by Shanna Swendson
Mine to Possess
by Nalini Singh
Pleasure of a Dark Prince
by Kresley Cole
Blaze of Memory
by Nalini Singh
Coming Undone
by Lauren Dane