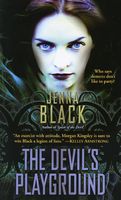 Morgan Kingsley, a kick-ass exorcist, can deal with Lugh, the supersexy demon living inside her, but does he have to moan softly during her intimate moments with her mortal lover? Understandably, Brian is reluctant to share the pleasures of Morgan's flesh with a gorgeous rogue from the Demon Realm.
But personal matters will have to wait when the opportunistic owner of the Seven Deadlies demon club in Philadelphia enlists Morgan's help in heading off a crisis: It seems that demons have started showing up at the hot spot in alarming numbers and in the unwilling bodies of rough trade club-goers. Morgan is sure that Dougal, Lugh's sworn enemy, is behind this, but why? To find out, Morgan must summon every ounce of power at her command—or risk becoming just another casualty in an all-out demon war.
I've gotta say that I don't think this series gets the props it deserves. Jenna Black has created a unique, incredibly rich world, with interesting backstories and relationships for all of her characters. It's not just that you have demons who possessing people, it's a whole society of demons who are 'working with humanity' to get what they want (physical sensation) while giving people what they need (stronger, more able 'heroes').
Unsurprisingly it turns into one of those relationships that's too good to be true and Morgan get's roped in not only because of her powers as exorcist but because of some secret family history. I know - I'm being kind vague but I don't want to ruin! There's all this tension between Morgan and her family, between her and her boyfriend, and between her and Lugh, the tempting demon who possesses her. Wrap all this up with some political intrigue and you've got a stand out urban fantasy series that everyone should be reading.
Overall Feeling

- Thumbs up. I feel like this series just keeps getting better with time, with strong unique characters and a very different take on the demon/human relationship.
Series

- 1)
The Devil Inside
2)
The Devil You Know
3)
The Devil's Due
4)
Speak of the Devil
5)
The Devil's Playground